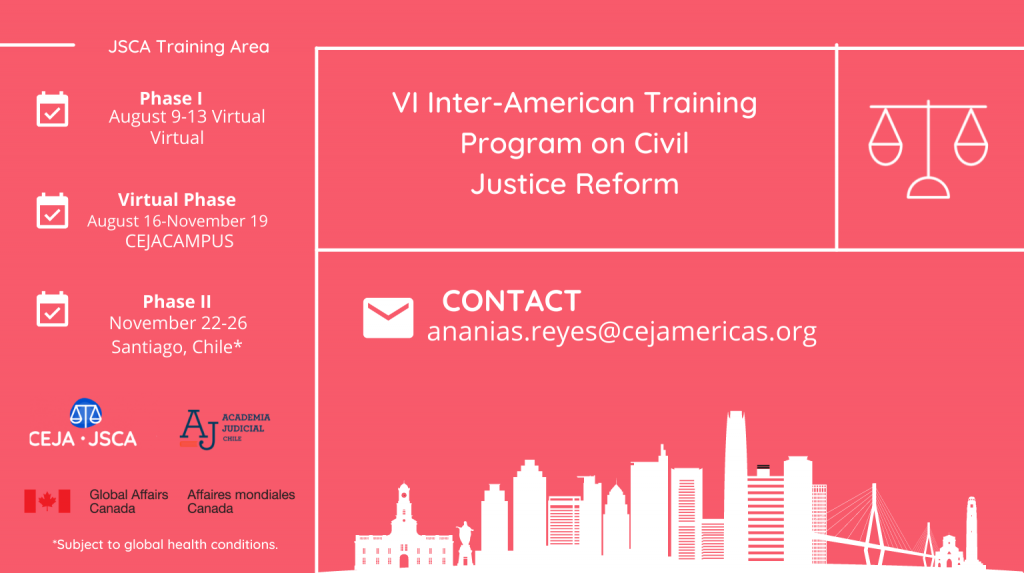 VI Inter-American Training Program on Civil Justice Reform
Over the past several years, Latin America has gradually begun to change its civil justice systems. Since 1989 when Uruguay passed its General Procedure Code and influenced by the Model Civil Procedure Over the past several years, Latin America has begun a gradual civil justice system reform process. Since 1989, when Uruguay passed its General Procedure Code, and influenced by the Model Civil Procedure Code for Ibero-America, various countries have followed this path with the goal of transforming traditional civil justice systems and changing various aspects of them. They have focused on ideas such as leaving behind the traditional file-based logic and moving towards a hearing-based system that uses oral procedures and in which the judge assesses the evidence directly using his or her senses. New discussions have developed around shared issues. Specialists have begun to explore what reformed civil procedures should look like and how to adjust the goals of judicial institutions to the new needs of the public. Judicial systems cannot delay in resolving disputes or fail to provide effective access to justice to large parts of the population. As such, we must study these topics from a legal and public policy perspective using a critical and proactive vision of the challenges posed by the judicial reforms undertaken in various countries in the region. In this context. JSCA is holding the VI Inter-American Training Program on Civil Justice Reform in Latin America. This program was made possible by the financial support of Global Affairs Canada (GAC) and is designed to support, train, and guide the individuals involved with these reform processes. The program will focus on the discussions that have emerged around reform processes and will allow participants to engage in informed debates and to acquire the tools necessary to implement the changes that must be introduced.
The general objective of the program is to transmit a set of information about the foundations that should be considered when discussing civil justice system reform in the countries of the region. Participants also develop the basic skills required to work in this new context. In regard to specific objectives, by the end of the program, students will be able to discuss the key elements of civil procedure reform, take a position in the conversation, and formulate sufficient arguments to justify it. In addition, they will be able to learn about and understand the new skills that this new civil justice model requires and will develop some basic skills related to it.
This hybrid program consists of three phases, two of them in person held in Santiago de Chile and one distance learning phase held on JSCA's virtual campus using e-learning.
Phase I:
Due to the global health crisis, this year Phase I will be held virtually via Zoom. The dates for Phase I are August 9-13, 2021. Students will cover the first 11 modules of the course. The first phase provides the information and knowledge necessary to discuss the construction of a civil justice reform. The modules are listed below:
Module 1: Analyzing justice system reform from a policy perspective
Module 2: Civil justice models and civil procedure systems
Module 3: The use of oral procedures and due process in civil justice reform
Module 4: The structure of oral civil proceedings
Module 5: New evidentiary institutions
Module 6: Judicial managements and large case volumes
Module 7: Case management
Module 8: Collective processes and class actions
Module 9: Unmet legal needs and justice reform
Module 10: Judging with a gender perspective
Module 11: Trial by jury
Virtual Intermediate Phase
JSCA's e-learning platform will be used for the virtual phase of the course, which runs from August 16 through November 19. The virtual course on Civil Justice Reform in Latin America is based on the modules listed below, each of which has complementary material that will allow students to study certain topics in greater depth.
Introduction to the platform
Module 1: Guidelines for reform
Module 2: The use of oral procedures in civil justice
Module 3: Civil execution systems
Module 4: Alternative dispute resolution mechanisms
Module 5: Expert evidence in civil proceedings
Module 6: Collective processes
Module 7: Case management
Phase II:
The second in person phase will be held November 22-26, 2021 in Santiago de Chile. The focus will be the development of skills and abilities through learning by doing, mainly through simulation exercises. The course consists of seven modules and five workshops:
Module 1: Structure of oral civil proceedings: The role of judges and the parties
Module 2: Case theory
Module 3: The preliminary hearing
Module 4: Conciliation techniques during the preliminary hearing
Module 5: Opening and closing arguments
Module 6: Direct examination
Module 7: Cross-examination and the use of prior statements
Workshop 1: Applied case theory
Workshop 2: Mock preliminary hearing
Workshop 3: Mock opening arguments
Workshop 4: Examination and cross-examination practice
Workshop 5: Mock oral trial
The Inter-American Training Program is designed for Latin American attorneys who work in various civil judicial system institutions in their countries as judiciary officials, private attorneys, with bar associations, at the Justice Ministry, etc. The course is also open to members of institutions with professional or academic interests such as universities, institutes, and NGOs. Preference will be given to individuals who can demonstrate a strong connection to reform processes in their home communities and who present leadership qualities and promise. The minimum requirements for the program are:
All applicants must hold an undergraduate degree or professional degree equivalent to an undergraduate degree in the field of Law, the Legal Sciences, or the Social Sciences.
All applicants must submit their materials online, including personal, employment and academic history. Please use the link on this page to apply.
The instructors will include JSCA permanent staff members and individuals who are part of its network of international consultants.

Detailed calendar:
In Person Phase 1:
August 9-13 (Virtual for 2021)
Virtual Phase:
August 16-November 19 • Introduction to the platform: August 13-15 • Module 1: August 16-29 • Module 2: August 30-September 12 • Module 3: September 13-26 • Module 4: September 27-October 10 • Module 5: October 11-24 • Module 6: October 25-November 7 • Module 7: November 7-21
In Person Phase 2:
November 22-26 in Santiago de Chile (subject to global health conditions)
The cost of the program is US$1,500 (one thousand five hundred dollars) for 2021. Institutional groups may request the following discounts:
9 or more people : 30%
4 - 8 people: 20%
3 people: 10%
Installment payments:
The applicant will receive an email notifying them that they have been accepted. The email will include a link that they can use to pay for the course via WebPay using a credit card.
The price listed on this page covers enrollment and materials only. Each participant is responsible for covering the costs of their transportation, lodging, and daily expenses.
The course covers 119 classroom hours.